It has been a long few months and I have completely neglected my poor blog. Time has been against me with work and family commitments and, even though I have been reading through my To-Read list, it is only now that I have found the right state of mind and the inspiration to bring this blog up to date.
This blog is going to give a quick overview of the books I have read over the last few months so hold on as we speed through:-
Title: Harry Potter and the Cursed Child
Author: J.K.Rowling
Publisher: Little Brown UK
Publication Date: 31/7/2016
Rating: 5/5
Review: Well, as a complete Potterhead I adored this book. Yes there were holes in the plot and in some of the character development (not the main 3 of course) however it was everything that every Harry Potter fan could have wanted and dreamt of. There were happy moments, sad moments, old rivalries, new friends and the return of some well-loved characters. It took me a day to read it and to delve back into the world of magic but it took seconds for me to feel like I had never left.
Title: Batman: Year One
Author: Frank Miller, David Mazzucchello (Illustrator), Richmond Lewis (Colourist)
Publisher: DC Comics
Publication Date: First published 1985; This Edition published in 2005
Rating: 5/5
Review: I decided to delve into the world of graphic novels and thought the best place to start would be with the superhero I grew up with – Batman. This was a genre I had never explored before but after Batman: Year One I am officially hooked. The story line was dark, foreboding and real and the artwork just brought everything to life as well as setting the dismal almost hopeless tone. The key point for me was Bruce Wayne realising that he was meant to become Batman; it was a simple scene with a picture that packed a punch and that's when I knew I had joined the legion of Batman fans around the world.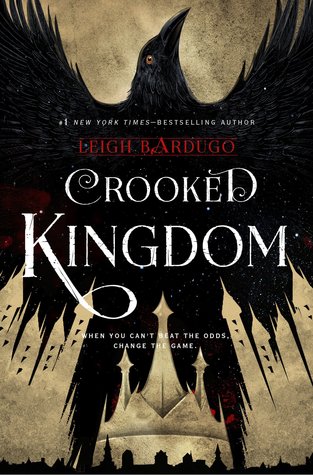 Title: Crooked Kingdom
Author: Leigh Bardugo
Publisher: Orion Children's Books
Publication Date: 27/09/16
Rating: 5/5
Review: This book was everything! If, like me, you have followed the gang from the beginning, this book will fill you with such emotions and I'm so devastated I won't see these guys again. The schemes were second to none, everything was planned meticulously and the ball was never dropped. For me, the best connections were Jester and Wylan and Kaz and Inej. The latter evoked such feelings in me even when no words were being said between them. The final chapter for Inej had my heart bursting; the short sentence "slowly, he let their fingers entwine" is by far my favourite line of the novel as so much is held in those 6 words.
I'm elated, devastated and in love all at once. Leigh Bardugo, thank you!!
Title: Well-Read Women: Portraits of Fiction's Most Beloved Heroines
Author: Samantha Hahn
Publisher: Chronicle Books
Publication Date: 27/08/13
Rating: 4/5
Review: This book is most definitely a coffee table book, one that you can pick up and sink into for 10 minutes of escapism. I can see myself falling hard and fast for this book. Not only are the pictures breathtaking but the quotes just emphasise the strength of these female characters and why they have earned their legendary status. It's going to be one that I will get lost in constantly, I love books like that!
Title: The Cure Hotel
Author: Ashley S. Clancy
Publisher: Static House Publishing
Publication Date: 04/11/2016
Rating: 3/5
Review: I was given a copy of this book from the publisher in exchange for an honest review.
Well…this was unexpected. I thought it was a simple sex book, a story about a very sexual receptionist who liked to entertain male guests who stayed at the Cure Hotel. At the beginning, that's exactly what it was, however, halfway through that all changed.
All in all I think the story had great potential and it was quite exciting with its twist and turns; the characters were interesting and I found myself reading most of the book in one sitting because I had to know what was going to happen next. However, as it got to the end it became really jumbled like everything was being thrown together rather than neatly tied up. I get the protagonist was an absolute psycho and the disjointed writing reflected her train of thought, however, not every character needed to be accounted for, for example, I think Mr Hodge could have been left festering in room 4.
It was a strange one for me because ordinarily, straight, simple and crude language usually doesn't appeal to me but this was gripping, it kept me hanging on and wanting to know what the hell was going to happen next. I wonder what is coming next from this author!
Now I am all up to date, I will not be neglecting my blog anymore and my next review will be on Neverwhere by Neil Gaiman.
If you would like me to read your work, please email kmday1812@gmail.com.